Red Ribbon Week 
Chapa-De Health Care Auburn Grass Valley
Your Future is Key, so Stay Drug Free.
In honor of Red Ribbon Week, October 23- 31st, Chapa-De reminds our patients of the importance of staying drug free and promoting drug-free communities.
What is Red Ribbon Week?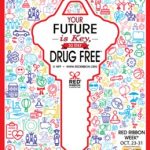 As the oldest and largest drug prevention program in the nation, Red Ribbon Week reaches millions of people each year and challenges communities to unite and take a visible stand against drugs.
Each year, participants can go online to sign the pledge, promising to help create drug free environments for the youth in our communities.
What is taking the pledge to help create a drug-free America about?
As parents and citizens, we will talk to our children and the children in our lives about the dangers of drug abuse.
We will set clear rules for our children about not using drugs.
We will set a good example for our children by not using illegal drugs or medicine without a prescription.
We will monitor our children's behavior and enforce appropriate consequence, so that our rules are respected.
We will encourage family and friends to follow the same guidelines to keep our children safe from substance abuse.
Take the pledge to set guidelines to help children grow up safe, healthy and drug-free here: http://redribbon.org/pledge/                                                                    
We also remind you of the importance of storing medications securely and using safe disposal sites or RX Take Back event for any leftover medication. According to www.takebackyourmeds.org;
Many teens mistakenly think medicines in the home medicine cabinet are safer to abuse than illegal drugs. Safely disposing of unwanted and expired medicines using a take-back program keeps these medicines out of the hands of teens.
Home medicine cabinets have become the new drug dealer. Over half of teens abusing medicines get them from a family member or friend, often without their knowledge.
Over 20% of high school students have taken medicine for a non-medical reason.
Abuse of prescription narcotics (e.g., Vicodin, OxyContin) can lead to heroin use. 39% of heroin users said they got addicted to prescription painkillers before starting to use heroin.
To safely dispose of unwanted and expired medications, please take them to:
            Recology Auburn Placer- 12305 Shale Ridge Road, Auburn, CA 95602
Grass Valley Police Department- 129 S. Auburn Street, Grass Valley, CA
Kmart Pharmacy– 111 W. McKnight Way, Grass Valley, CA
---
PASSIONATE PEOPLE. COMPASSIONATE CARE.
Chapa-De provides medical care, dental care, optometry, behavioral health, pharmacy services and much more.
Serving all American Indian, Low Income and Limited Income Community
Members
Chapa-De Indian Healthcare Auburn Grass Valley