Endodontics New Dental Service
Chapa-De Indian Health Auburn Grass Valley | Medical Clinic
Chapa-De Indian Health is committed to meeting the needs of our community. We have grown and developed over the years. Most recently, we have welcomed an endodontist onto our team! Dr. Steve Murphy is now available to see patients at our health center in Auburn. This exciting new service will allow our Medi-Cal and uninsured patients to more easily get the care they need! 
What is an Endodontist?
An endodontist is a dental specialist. They are highly skilled and focus on diagnosing and treating tooth pain. Endodontists perform root canal treatments. Your General Dentist can also perform root canal treatments and endodontists specialize in more complicated cases. You may be referred to an endodontist by your dentist if you are experiencing:
Tooth pain
A tooth injury
Deep tooth decay
Endodontists are specially trained to treat teeth that are infected, inflamed, or injured. They aim to save natural teeth whenever they can.
Learn more about the difference between an endodontist and a dentist HERE.
Introducing Dr. Steve Murphy 
Dr. Steven Murphy, an endodontist, just joined the Chapa-De Auburn team! Dr. Murphy attended the University of Connecticut, School of Dental Medicine. He completed his residency in Endodontics at the Boston University, Goldman School of Dental Medicine. Dr. Murphy worked as a general dentist before specializing in endodontics. He has experience working in community and Tribal health centers like Chapa-De. Dr. Murphy strives to provide patient focused, high quality care.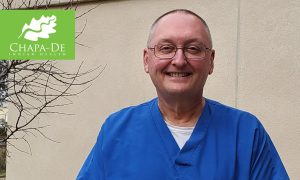 Accessing Endodontic Treatment at Chapa-De
Chapa-De's General Dentists will refer patients to an Endodontist if a more complicated root canal is needed. Just like referrals to other specialists, Chapa-De's Referral Coordinators will help patients get an appointment with Dr. Murphy or another Endodontic Specialist based on scheduling availability and the specific needs of the patient.  
For more information about Chapa-De, call our Auburn location at (530) 887-2800 or our Grass Valley location at (530) 477-8545 or visit us online at chapa-de.org.
---
PASSIONATE PEOPLE. COMPASSIONATE CARE.
Chapa-De provides medical care, dental care, optometry, behavioral health, pharmacy services and much more.
Serving all American Indian, Low Income and Limited Income Community Members