A Strong Heart
More Days Doing What You Love
Chapa-De Indian Health Auburn Grass Valley | Medical Clinic
The latest edition of Chapa-De News is now available. Each quarter we feature a collection of cultural stories, news, announcements, and events relevant to our local American Indian community. Below is a selection from one of the stories you will find in our newsletter and you can read the full version HERE.
HEALTH TIP: A strong heart = more days doing what you love
Our hearts play a huge role in our health. It is constantly working to deliver blood, oxygen, and nutrients to our bodies, even while we sleep.
Since our hearts cannot afford to take a day off, it is important to keep them in tip top condition!
HOW TO KEEP OUR HEARTS HEALTHY:
Give it a regular workout: Exercise is important to keep our hearts strong. Cardiovascular exercise such as walking, swimming, or bike riding are good choices to exercise our heart.
Our food choices play an important part: Choose heart healthy cooking oil, oil such as olive oil and avocado oil are full of heart healthy unsaturated fat. Eating less deep fried food is also good for our hearts. Try to limit salt and eat more fiber from fruits and vegetables.
Keep blood pressure under control: Our food and movement can be our medicine, however if our medical provider feels you need medication, take it as prescribed.
If you smoke, consider quitting. Your chances of having a heart attack goes down within one day of quitting.
Don't stress out: Stress is a silent killer. Find things that make you happy and remember the good things in life.
Chapa-De News
Find this and other culturally relevant articles in our latest edition of Chapa-De News.
Read Chapa-De News now by clicking HERE.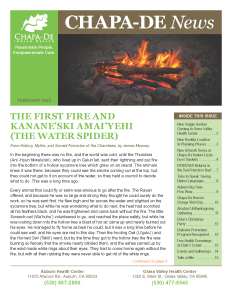 ---
PASSIONATE PEOPLE. COMPASSIONATE CARE.
Chapa-De provides medical care, dental care, optometry, behavioral health, pharmacy services and much more.
Serving all American Indian, Low Income and Limited Income Community Members