GRASS VALLEY HEALTH CLINIC
Your Care Team and Your Pharmacy Together
Access to quality health care doesn't stop with a doctor's visit.  Access to medication and informative, helpful, pharmacists can make all the difference on you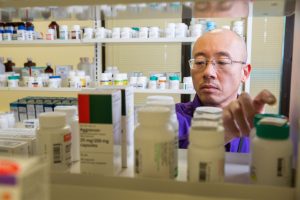 r road to wellness.  Chapa-De takes pharmacy services to a new level by offering our clients the convenience of on-site pharmacies at both our Auburn and Grass Valley locations. Not only does this make it easier for you to pick-up your medication, but it also ensures that your Care Team and your pharmacy are always on the same page for your care. We also offer mail-order service so that your medications can be delivered to your mailbox, and we are happy to sync your medications so that they are refilled together each month (so you don't have to make extra trips to the pharmacy).
Whether you are picking up your prescription from our Auburn health clinic or our Grass Valley health clinic, we encourage you to reach out with any questions to one of our knowledgeable and friendly pharmacists.  They will be happy to provide you a consultation on any new medication, or even something you've been using for some time.  There is never a bad time to participate in your healthcare and our dedicated pharmacy staff members are eager to help you on the road to recovery and/or maintaining good health.
There is nothing more frustrating than arriving at your local Drug Store pharmacy to pick up your prescription, only to find out the order wasn't filled. At Chapa-De, your Care Team and your pharmacy are all in one place, so that we are always on the same page when it comes to your health.
You can contact our Auburn health clinic Pharmacy by calling (530) 887-2836 or our Grass Valley health clinic Pharmacy at (530) 477-5968. Our Pharmacies are available from 8:30a..m – 5:30p.m. with a short break from 12:30-1:30 for lunch. We are happy to fill new prescriptions or refill past prescriptions but we do encourage you to choose which of our pharmacies is most convenient for you and follow up on your refills with the same location each time.
Cost is always a concern when it comes to medication.  We accept Medi-Cal, Medicare part D and a variety of private insurance plans.  We are also competitively priced as compared to major pharmacy chains. Ensuring that our patients can use a variety of Medicare, Medi-Cal, and other insurance options to receive their medication is one of the many ways we hope to serve the Auburn and Grass Valley communities.
---
PASSIONATE PEOPLE. COMPASSIONATE CARE.
Chapa-De provides medical care, dental care, optometry, behavioral health, pharmacy services and much more.
Serving all American Indian, Low Income and Limited Income Community
Members
Grass Valley health clinic | CHAPA-DE