Chapa-De Indian Health & Sutter Auburn Faith Hospital present:
Healthy Family Fun Day!
Do you have to rely on the Emergency Room for help because you can't find the right Doctor?
Do you ever feel like your family does not get the care it needs?
Do you know about all the amazing resources available to you and your family, right here in Auburn?
Chapa-De and Sutter Auburn Faith is committed to your family's health, and the health of our community, which is why we are partnering to present the first annual Healthy Family Fun Day event!
Don't Miss Out!!!
SATURDAY AUGUST 20th 2016
10:00am-1:00pm
Chapa-De Indian Health-Auburn
11670 Atwood Rd.
Auburn CA 95603
This is a FREE event that is open to the entire community! Come enjoy music and fun family-oriented activities, while learning about the amazing health services available to you at Chapa-De.
*FREE dental screenings for children and adults – this will satisfy the required dental screening for kindergarten aged children
*FREE Fluoride Varnish Treatment for Children
*FREE Diabetes Risk Assessments & A1C Testing
*FREE vision and hearing screenings
*FREE blood-pressure checks
*FREE hemoglobin, height and weight checks for children (this is the information you need to apply for WIC)
*Learn how to grow your own healthy garden and tour Chapa-De's organic gardens
*Learn how your children may be eligible for full coverage Medi-Cal regardless of immigration status
*Take a tour of our Health Center to see our state of the art equipment and facilities
*Get your questions answered about Medi-Cal, Indian Health Service and other programs that can help make your healthcare affordable
***WE'LL ALSO HAVE FACE PAINTING, BALLOON ANIMALS, OBSTACLE COURSE, PHOTO BOOTH, HEALTHY SNACKS, GIVEAWAYS AND MUCH, MUCH MORE***
Do you know that American Indian people can receive services and medication for little to no cost at Chapa-De Health Centers?
Did you also know that Chapa-De cares for low-income community members who are not American Indian?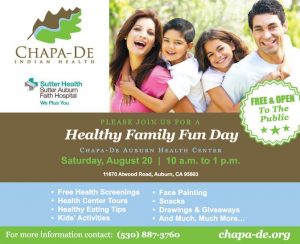 In addition to enjoying many of Chapa-De's services for free, the Healthy Family Fun Day will also feature many local resources and non-profit organizations. We are all coming together to share information about how we can help you and your family with everything from fitness to nutrition, food, counseling, safety and support.
Featuring:
ADVOCATES FOR MENTALLY ILL HOUSING
AUBURN INTERFAITH FOOD CLOSET
BOYS AND GIRLS CLUB OF PLACER COUNTY
CALIFORNIA HIGHWAY PATROL
CALIFORNIA RURAL INDIAN HEALTH BOARD
LIFELINE ASSISTANCE FREE CELL PHONE PROGRAM
GOLDEN SIERRA LIFESKILLS, LLC
KIDS FIRST
KIDZKOUNT (PCAC, HEAD START)
LATINO LEADERSHIP COUNCIL
LEGAL SERVICES OF NORTHERN CA
LIGHTHOUSE FAMILY RESOURCE CENTER
PLACER COUNTY PUBLIC HEALTH
PLACER COUNTY SHERIFF
PLACER FOOD BANK
PLACER INDEPENDENT RESOURCE SERVICES
PLACER KIDS
SHINGLE SPRINGS TRIBAL TANF PROGRAM
STAND UP PLACER
SUTTER AUBURN FAITH HOSPITAL
UC DAVIS EXTENSION CO-OP
And more!!!
Please join us in the fun, and join us in helping keep you and your family healthy.
---
PASSIONATE PEOPLE. COMPASSIONATE CARE.
Chapa-De provides medical care, dental care, optometry, behavioral health, pharmacy services and much more.
Serving all American Indian, Low Income and Limited Income Community Members
Auburn Events | Chapa-De