Grass Valley Events | Healthy Family Fun Day

Chapa-De Indian Health presents:
Healthy Family Fun Day!
Is your family getting the health care it needs?
Do you know about all the amazing resources available to you and your family, right here in Grass Valley?
Chapa-De is committed to your family's health, and the health of our community, which is why we are partnering with other local community organizations to present our Healthy Family Fun Day event! 
Don't Miss Out!

Saturday, November 5, 2016

12:00pm-3:00pm

Chapa-De Indian Health

1350 E. Main St., Grass Valley CA 95945
This is a free event that is open to the entire community! Come enjoy fun family-oriented activities while learning about the amazing health services available to you at Chapa-De.
FREE blood pressure testing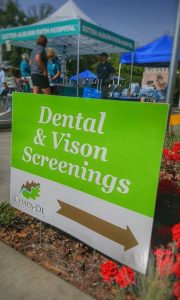 FREE dental decay screenings
FREE fluoride varnish treatments
FREE vision and hearing screenings for kids
FREE diabetes risk assessments and A1C blood sugar testing
FREE cholesterol screenings
Learn how your children may be eligible for full coverage Medi-Cal regardless of immigration status
Take a tour of our Health Center to see our state of the art equipment and facilities
Get your questions answered about Medi-Cal, Indian Health Service and other programs that can help make your healthcare affordable
Learn about local organizations and resources in the community
Do you know that American Indian people can receive services and medication for little to no cost at Chapa-De Health Centers? 

Do you also know that Chapa-De cares for low-income community members who are not American Indian?
In addition to enjoying many of Chapa-De's services for free, the Healthy Family Fun Day will also feature many local resources and non-profit organizations. We are all coming together to share information about how we can help you and your family with everything from fitness to nutrition, food, counseling, safety and support.
Please join us in the fun, and join us in helping keep you and your family healthy.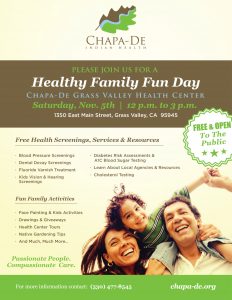 click to enlarge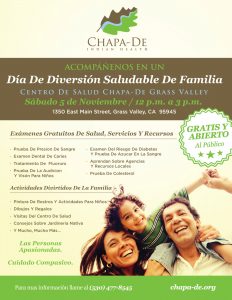 click to enlarge
---
PASSIONATE PEOPLE. COMPASSIONATE CARE.
Chapa-De provides medical care, dental care, optometry, behavioral health, pharmacy services and much more.
Serving all American Indian, Low Income and Limited Income Community Members
Grass Valley Events | Chapa-De