Grass Valley Dental Care | Chapa-De
Chapa-De Auburn & Grass Valley Celebrates National Children's Dental Health Month in February
February is National Children's Health Month. National Children's Dental Health Month is meant to raise awareness about the importance of oral health.  Why is this type of celebration –and year-round attention to children's dental health so important?
Despite the fact that it's almost entirely preventable, tooth decay is the most common chronic disease in children. Our mouths are full of bacteria. Hundreds of different types live on our teeth, gums, tongue and other places in our mouths. Some bacteria are helpful. But some can be harmful such as those that play a role in the tooth decay process.
The good news is there are safe and effective preventive measures that can protect teeth. Good oral hygiene practices such as thorough brushing with fluoride toothpaste can help keep children from getting cavities. In addition, dental sealants and community water fluoridation are two other strategies that can help prevent tooth decay.
Tooth-friendly tips:
Limit between-meal snacks. This reduces the number of acid attacks on teeth and gives teeth a chance to repair themselves.
Save candy, cookies, soda, and other sugary drinks for special occasions.
Limit fruit juice.
Make sure your child doesn't eat or drink anything with sugar in it after bedtime tooth brushing. Saliva flow decreases during sleep. Without enough saliva, teeth are less able to repair themselves after an acid attack.
At both of our community health centers in Auburn and Grass Valley, we offer excellent dental care. At both medical clinics, we offer pediatric and adult dentistry. We offer the foll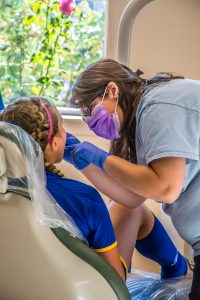 owing affordable services:
Diagnostic Exams
Oral Hygiene Instruction
Dental Prophylaxis (cleaning)
Digital X-Rays
Restorative Care (fillings)
Dental Appliances (crowns, bridges, dentures)
Limited Root Canals
Limited Oral Surgery
Fluoride Treatments
Orthodontia (in Auburn only)
In the event you require additional services, we will refer you to an outside dental specialist.
We want to make your experience in our health centers as comfortable and convenient as possible. Therefore, we want you to have an appointment to be seen. Please call us to schedule an appointment. We cannot guarantee that you will be seen if you walk-in without an appointment.
To schedule an appointment call:
We do reserve a few urgent appointments per day for patients who have severe pain, infection or swelling. The urgent problem is the only thing addressed at an urgent visit. Please call us to book an urgent appointment.
You will need to bring the following items to all of your appointments:
Photo ID
All insurance cards (Medi-Cal, Medicare or other medical, prescription or dental insurance).
A list of medication you are taking or bring the medications with you.
The patient services representative making your appointment will also inform you of any records or information you need to bring with you.
We look forward to seeing you and your family soon!
---
PASSIONATE PEOPLE. COMPASSIONATE CARE.
Chapa-De provides medical care, dental care, optometry, behavioral health, pharmacy services and much more.
Serving all American Indian, Low Income and Limited Income Community
Members
Grass Valley Dental Care | Chapa-De