Chapa-De is Hiring!
Change lives in a place that could change yours.
Chapa-De Indian Health Auburn Grass Valley | Medical Clinic
Give back, make an impact in the community, and receive highly competitive pay and benefits as part of the Chapa-De team. If you have a passion for helping others, we encourage you to apply today!
Our Team Culture
 Our team driven culture is rooted in the bond that our staff members share with patients and with each other. Click HERE to watch our video and hear from real staff members talking about their experiences at Chapa-De.
Chapa-De staff members feel a deep sense of pride in our work because we are able to make an impact in other people's lives. Equally important in the impact patients and community members make on ours. Those partnerships and relationships drive us to do our absolute best for those we serve.
Work-Life Balance
At Chapa-De, we believe that you should have time and energy to enjoy the people and activities you love most. We very much value work-life balance. This central philosophy drives us to ensure employees have manageable workloads and schedules. We want employees to enjoy their evenings and weekends away from work. We also provide and encourage staff to utilize a generous number of paid days off. Ensuring balance and self-care is critical for supporting our staff in delivering top-quality care and to feel fulfilled in their career.
In both Auburn and Grass Valley, our employees also have access to the beautiful outdoors. Many of our employees enjoy hiking, rafting, and biking. We are also close enough to Lake Tahoe, Sacramento, and the Napa Valley for day trips!
Benefits of Working at Chapa-De
We are very proud to offer competitive benefits and salaries that are above market rates. We have recently enacted wage adjustments to ensure we continue to be a leader in pay compared to others in our field. We know that our team members are well worth it.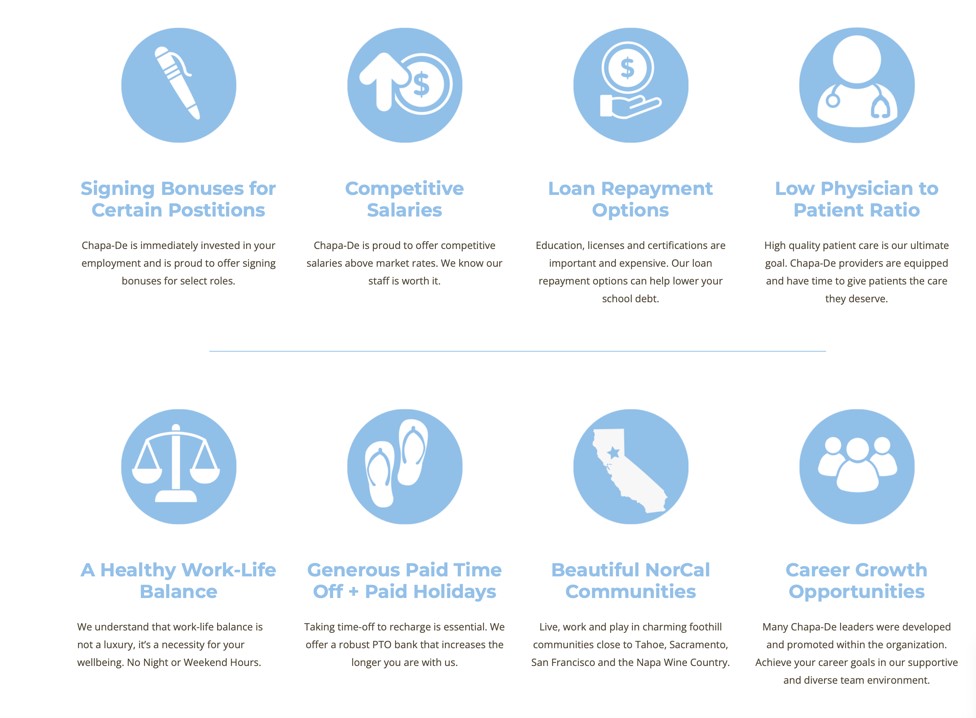 To find out more information about careers at Chapa-De, click HERE.
We highly encourage all qualified patients and community members to apply to join our team. We have a wide variety of opportunities and rely on many different skillsets to fulfil our mission. Whether you are looking to be a healthcare provider or are looking for other employment options, Chapa-De likely has an opportunity for you!  
To see a list of all open positions, click HERE.
Join Our Team Today!
For more information about Chapa-De, call our Auburn location at (530) 887-2800 or our Grass Valley location at (530) 477-8545 or visit us online at chapa-de.org.
---
PASSIONATE PEOPLE. COMPASSIONATE CARE.
Chapa-De provides medical care, dental care, optometry, behavioral health, pharmacy services and much more.
Serving all American Indian, Low Income and Limited Income Community Members