Here at Chapa-De, we strive to do all we can to help our patients live happy and healthy lives. We recognize that challenges at home can make it hard to stay well. Whether it is struggling with unstable housing, unreliable transportation, or caring for sick loved ones, prioritizing one's health may seem impossible. This is why we created  a special team that can help. The Chapa-De Care Coordination Team helps patients find programs and services that will work best for them. Their goal is to support patients to keep living well in the community. 
How can the Care Coordination team help?
Our Care Coordinators work with patients on a case-by-case basis. They will address whatever specific question or challenge a patient is facing. Dependent on need, they will recommend resources and ensure that the patient is eligible for assistance services. If needed, the Care Coordinators will also help the patient fill out and turn in the necessary forms or applications.  
What are the most common things that Care Coordinators help with?
Care Coordinators can help with a variety of different things, but some of the most common issues they assist with include: 
Healthcare Coverage → Example: Medi-Cal Application & Renewal Assistance 
Senior Specific Resources → Example: Meals on Wheels 
Food Insecurity → Example: CalFresh and local food closets 
Transportation → Example: Schedule a ride to a medical appointment  
Housing → Example: Housing Assistance Programs 
Temporary Disability → Example: Complete EDD Forms (Employment Development Department) 
Who Is Eligible?
Any Chapa-De patient is eligible. Our Care Coordinators are here to help in any way they can. Don't be afraid to reach out and ask for help, no matter what your individual circumstance may be. Even if our Care Coordinators cannot help with a certain situation directly, they will do all they can to offer information and connections to agencies who can help. 
Meet Our Care Coordination Team
At Chapa-De, it's important to us that our patients receive the best care possible. We achieve this by facilitating close relationships in the clinics and throughout our community. Our Patient Care Coordinators, Melissa and Donna, are dedicated to helping with patient needs. Melissa serves patients in Placer County and Donna serves patients in Nevada County.  
In addition, our Community Health Representatives are available to make connections to resources and services within our Tribal and Latin@ communities. Sami works with our American Indian/Alaskan Native (AIAN) population. Hernan works with our Latin@ population – he speaks both English and Spanish.  
If you have questions about healthcare coverage or would like help filling out applications for Medi-Cal or Covered California, we have a dedicated Eligibility Specialist who can assist new and existing patients. Gilbert is available for both the Auburn and Grass Valley locations.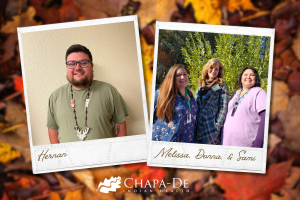 Ways to Connect with the Team:
Call us at (530) 887-2800 (Auburn) or (530) 477-8545 (Grass Valley)

 

Ask your medical provider or nurse during your appointment

 

Stop by either location during business hours and ask to speak with a Care Coordinator 

 
Let us help connect you to the programs and resources that are available! 
For more information about Chapa-De, call our Auburn location at (530) 887-2800 or our Grass Valley location at (530) 477-8545 or visit us online at chapa-de.org. 
Chapa-De Indian Health Auburn Grass Valley | Medical Clinic
---
PASSIONATE PEOPLE. COMPASSIONATE CARE.
Chapa-De provides medical care, dental care, optometry, behavioral health, pharmacy services and much more.
Serving all American Indian, Low Income and Limited Income Community Members