Chapa-De Medical Care Services + Meet Our Team
Chapa-De Indian Health Auburn Grass Valley | Medical Clinic
Since our founding, Chapa-De has been committed to providing the best quality care for all patients, regardless of ethnicity or financial situation. Over time, we have grown our practice and expanded on our available services to best serve our community. 
Services
Chapa-De offers a variety of healthcare services to help improve the health and wellbeing of our communities. 
Medical care

Dental care

Optometry

Behavioral health

Pharmacy

Diabetes program

Prenatal care

Telehealth services

Substance use disorder services 

Health and wellness education classes 
Today, we are highlighting our extensive medical services. Our available medical services include:
Well Child Checks with Immunizations

Complete Physical Examinations with Immunizations

Family Planning, Including Placement of Intrauterine Devices & Vasectomy

Testing and Treatment of Sexually Transmitted Infections

Well Woman Exams

Pregnancy Testing

Prenatal Care

Management of Chronic Illnesses

Counseling on Nutrition, Exercise and Lifestyle

Screening Exams for Vision, Hearing, Tuberculosis and Cancers

Confidential HIV Testing

Blood Tests

Electrocardiogram (EKG)

Treatment of Sprains or Simple Fractures

Click

HERE

for more information on our medical services.
For more information or to schedule an appointment, please call our Auburn location at (530) 887-2810 or our Grass Valley location at (530) 477-8545 or visit us online at chapa-de.org.
Meet Our Team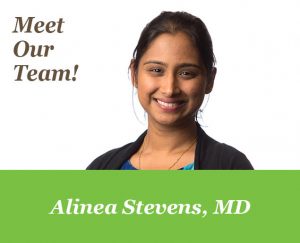 Meet Alinea Stevens, MD, our Medical Director and a Physician at our Auburn and Grass Valley locations. Alinea became a physician because she wanted to work with underserved patients. Alinea specializes in Family and Addiction Medicine and is passionate about serving women and children from low-income families. 
Alinea sees patients for same day appointments, prenatal care and addiction treatment. Chapa-De is grateful to have such a passionate and skilled physician. Alinea's pledge to serve her community and desire to inspire growth and change through the care she provides makes her a great fit for the Chapa-De team and a wonderful resource for the communities that we serve.
---
PASSIONATE PEOPLE. COMPASSIONATE CARE.
Chapa-De provides medical care, dental care, optometry, behavioral health, pharmacy services and much more.
Serving all American Indian, Low Income and Limited Income Community
Members
Chapa-De Indian Healthcare Auburn Grass Valley