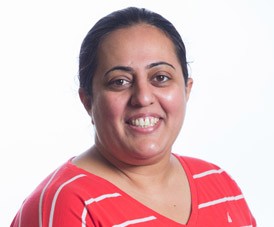 Shibani Sehgal, DMD
Dentist – Auburn

School: Graduated from University of Pennsylvania, 2010
Specialties: General Dentistry
Languages Spoken: Punjabi, Hindi
About Me: I am a Dentist at Chapa-De Indian Health in Auburn. My specialties include general dentistry, as well as family and pediatric dentistry. I believe in treating the individual, not just the disease. With every patient, I take a holistic approach and try to connect with them on a personal level. I strive to empower my patients with knowledge so they can partner with me in making decisions to improve their dental health. Working in tribal health at Chapa-De allows me to serve the underprivileged. I aim to provide expert care to those who need it most but often have the least access to it.
I graduated from University of Pennsylvania. I also speak both Punjabi and Hindi. Outside of work, I enjoy cooking, traveling, reading, and spending time with family.